Bonded by their breath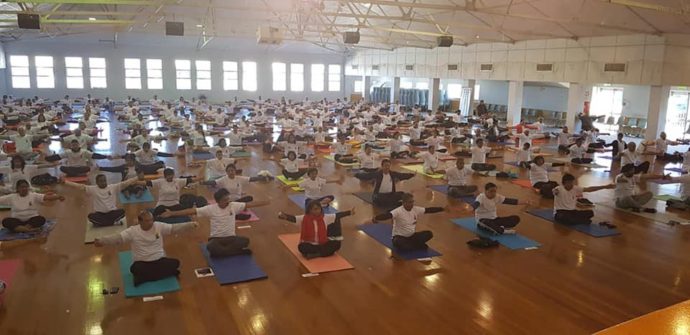 'Yoga belongs to the world, but it has a home. India – the birthplace of yoga.'
This was the writing on the poster that advertised the International Yoga Day celebrations held in Auckland on Sunday (June 16).
Although June 21 is the actual International Yoga Day, the Indian High Commission and the Honorary Consulate's office in Auckland chose to organise for a morning yoga session at the Mahatma Gandhi Centre in Eden Terrace. In Wellington, a similar event was organised simultaneously.
The morning before, there was a sun salutation – a collection of yoga poses – organised at the Auckland Harbour. But, the motley crowd that had gathered on Sunday was mind-boggling, not only because of their numbers but also because of the age-groups it spanned.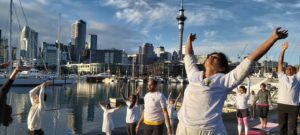 From 3-year-old children to the elderly, from the sprightly to the infirm – no one was left behind. If they could not sit on the floor, they were sitting on chairs; if they didn't get a mat, they used the floor – every single person followed the instructions of the yogis from Art of Living, in tandem. The ethnicity of the participants was, of course, not limited to Kiwi-Indians.
The organisers, this year, introduced branding to the event by distributing T-shirts with the tagline 'Incredible India', to every participant. Snacks were offered at the end of the yoga session.
Perhaps the best takeaway of an otherwise chilly Sunday morning was the enthusiasm and smiles that the crowd shared, not to mention the act of rhythmic breathing popularly referred to as meditation.
Photos courtesy: Indian Weekender
Comment with your Facebook profile
comments