Top 5 Korean Restaurants in Auckland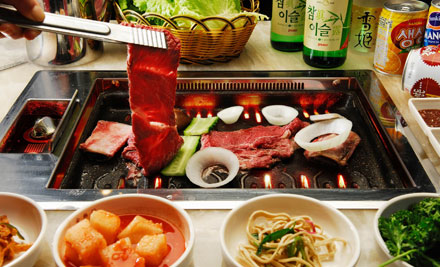 Before I arrived in New Zealand, I did not expect to find Korean cuisines here and even doubted the taste of the Korean food that I saw in restaurant menus. But, after I had my first Korean meal in Auckland, I felt I was back in my home country.
There are several good Korean restaurants in here. Today, I shall share my top five personal favourites.
1. Teolbo Sundaetguk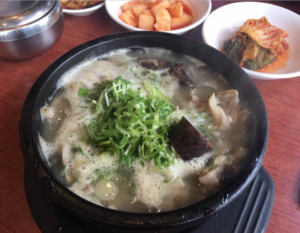 This restaurant has two branches, located in Auckland CBD and Albany. Both sell Sundaetguk, which is a Korean blood sausage soup with rice and assorted boiled meat slices. This soup always makes me feel warm. The radish kimchi is a perfect match with this. On cold and rainy days, this is just the place to go to and have a pot of hot Sundaetguk.
Address: 4/18 Beach Rd, Auckland, 1010
Phone: 09-354 3888
2. Faro
This restaurant is located in the heart of Auckland CBD, and sells Korean traditional dishes. Even if the price you pay might be a tad steep, this is where I bring my guests if I want to treat them to some fine cuisine.
In fact, a lot of Korean celebrities stop by this restaurant when they come to Auckland – there are signatures of these stars sprawl all over the place. So this is the place to be if you would like to experience fancy Korean BBQ. The service is also pretty good, with unlimited side dishes.
Address: 5 Lorne Street, Auckland 1010
Phone: 09 379 4040
3. Kaya
Kaya restaurant was first opened in Rosedale, North Shore. As its Jokbal, a trotter dish, became famous and liked by many people, a new store opened only recently in Auckland CBD, near the Auckland Art Gallery.
There are various fusion Korean cuisines and because of the great location of the downtown restaurant, it is always busy with customers. When you visit Kaya, I would like to recommend 'BulJokbal', a very spicy trotter dish. This is just for you, if you enjoy hot food.
Address:
32 Lorne Street, Auckland 1010
Phone: 09 8877943
33D Triton Drive, Rosedale, Auckland 1010
Phone: 09 8879224
4. Tombo Buffet
This restaurant is located in New Market. It offers casual Japanese dishes in the afternoon, but by evening it serves fancy Korean/ Japanese cuisines. I prefer the dinner buffet, because it comes with a lot of choices. The restaurant owner is really friendly and she sometimes serves grilled beef, especially on my plate!
I love like to pick a fresh salmon and Nabe, which is a Japanese-style hot pot soup with vegetable and beef. You should visit Tombo definitely the winter months.
Address: 5 Short St, Newmarket, Auckland 1023
Phone: 09-522 8282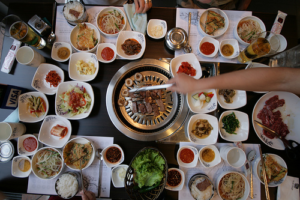 5. No. 1 Chicken
When I hang out with friends in New Market, we often make our way to No. 1 Chicken to grab some crispy chicken with beer. The snack place is located very close to the New Market train station. Even though it is not very spacious, it is a favourite haunt for chicken lovers. The crispy and tender texture of the fried chicken promises to satisfy all palates.
Address: 40 Remuera Rd, Newmarket, Auckland 1023
Phone: 09-524 0808
Top photo courtesy: new.grabone.co.nz
Comment with your Facebook profile
comments