Japanese down-under: Riding the radiowaves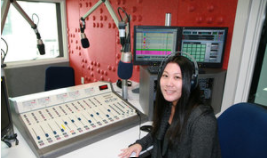 Naoko Hiruma has been presenting her own programme, now known as Japanese Downunder, on the community radio station Plains FM96.9 since 2002, when she was only 21 years old.
She had then come to Christchurch for one year to learn the English language, which she considered to be an important part of her four-year media studies Chiba University, near Tokyo.
Naoko hoped to work in radio and thought English would be an important advantage. She considered New Zealand to be the ideal place to learn this.
She was accompanied by Yuji Hiruma, who was doing post-graduate university studies in electrical engineering. He also had the need to learn English. Yuri got a PhD on his return to Japan.
"I got the opportunity to do the radio programme on Plains FM and really loved it. But I was still a university student back in Japan and had to go back to finish my degree," says Naoko.
"I also wanted to continue my show and did so from Tokyo, where I recorded my voice for the programme and sent it through to Plains FM by Internet. I did this for six years. It was a hard thing to do but I'm glad I did it."
Naoko married Yuji in 2007, after he had started to work at the Tokyo University of Science as an assistant professor. He then received a job offer to do research and teach at a New Jersey university.
"We thought of going to the United States but I always had a dream of living in New Zealand. I also always had a love for doing my own show. Then, in 2008, I got a job offer from Plains FM as a sound engineer.
"I had the opportunity to have two dreams come true – doing my own radio show and living in New Zealand – so I decided to come here. I completed my day's work at Plains FM and then worked on my own programme," says Naoko.
"Yuji didn't go to the U.S. but stayed on at the Tokyo University of Science. For the first two years in New Zealand, I was on my own. It was a total challenge and a culture shock, until Yuji joined me here. Although he had a PHD and been doing advanced research in electrical engineering, Yuji had to give up his career to live here."
After two years here together, Naoko and Yuji got permanent residency and started up their own company, Quality New Zealand Life Limited, which is an international school agency, through which they help introduce Japanese students to this country and generally support them.
"This is mainly for university and polytech, as well as secondary-school students. Because Yuji used to teach at university in Japan, he can help students with their education," says Naoko.
To top it all, Naoko gave birth nine months ago to a baby boy, Liam, who now also takes up much of her time.
But this does not keep her away from putting together Japanese Downunder, which goes on air at 8.30pm on the first Thursday of every month and is repeated on the following Saturday at 1.30pm.
Presented in both Japanese and English, the show is aimed mainly at Japanese people living in New Zealand, although there are also listeners in Japan through Plains FM's live-stream broadcast and podcast services, through its Website, plainsfm.org.nz
"We teach the basics of living in New Zealand for Japanese people who can't read English too well and miss out on information on local events. We also introduce them to New Zealand culture and customs, and how to participate in Christchurch life," says Naoko.
"It is a relaxing and entertaining way to explore cultural differences and similarities, and have a laugh at ourselves."
In 2008, she won first prize in the Fresh FM Vox Radio Audio Theatre Competition for writing the script for a play about a Japanese woman living in a New Zealand apartment with two men. She also voiced and edited this radio play. "Pretty much based on my experiences, the script presented the cultural differences in a lighthearted way," says Naoko.
Other major awards won by Naoko include: In 2006, the Smile Photo Grand Prix, for which she received round-the-world air tickets for two; and in 2009, the New Zealand Radio Award for Best Community Access Spoken/Informational Programme in Any Language.
Anyone wishing to communicate with Naoko can do so through her Facebook page: facebook.com/jdunz/
Courtesy: The Migrant Times
Comment with your Facebook profile
comments